Excerpt from: Dita Von Teese Loves Hosting Fondue Parties by Sierra Tishgart
Published by The Grub Street, September 30, 2016
Reposted: A Day in Dita Von Teese's AGA Kitchen by Leah Kalemba
Republished by AGA, October 12, 2016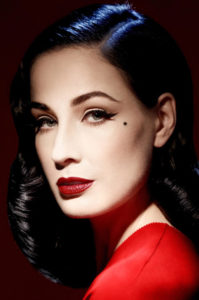 Glamorous Dita Von Teese is timeless in her craft, from her signature red lips to her Golden-era Hollywood style. With a steadfast artistic vision and an eye for showmanship, it seems only natural the starlet was attracted to the vintage good looks of an AGA cast iron range, the new focal point of her kitchen.
In the following interview by Grub Street, she chronicles her experiences with food and drink – and how home-cooked AGA meals have changed her life.
"I love cooking and recently redid my kitchen in a Snow White fairy tale–Art Deco–meets–Tudor style, and it might just be the most glamorous room in the house, so I like to spend a lot of time in there. When I remodeled my kitchen, I bought a British-racing-green cast-iron Aga stove, with copper accents. It's a real showpiece when people walk into my kitchen. I'd been fantasizing about it for a long time — it's what Julia Child used.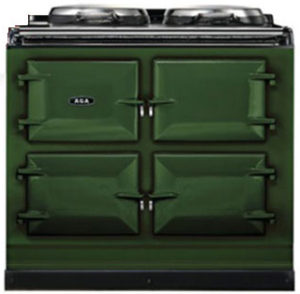 I read my manual a lot, and it includes a recipe for the famous slow-cooked porridge, which has been life-changing. I mixed the steel-cut oats with water and salt in my heart-shaped cast-iron pan, and popped that in the low-temperature oven to cook overnight. Even my boyfriend, who doesn't like oatmeal, is completely astonished that it doesn't have butter and cream in it.
I come home and take the porridge out of the oven and make my favorite extra-smoky Mariages Frères Lapsang Souchong tea. I've got so many friends addicted to this that now I have to leave space in my luggage for it when I go to Paris. The porridge is divine as usual, like a creamy soufflé with chewy baked browned edges. I pour some maple syrup on it and again marvel at how this can come out so deliciously with just water, oatmeal, and salt! I really need more witnesses to how amazing this porridge is.
I love hosting themed potluck dinners at my house. I decided to make a cheese fondue served with vegetables and bread to dip, and Champagne. It was a huge hit. I read that the first person to drop something into the fondue has to host the next fondue party. I've long wanted to host a "Fundue Fondue" party, with fondues of all different kinds, and everyone wearing amazing wigs — like how Ellen von Unwerth used to host wig parties in Paris. Perhaps next time. But potlucks are great, because people love thinking of a dish to bring and bragging about it. And also, you don't have to do much work, except for the cleanup.
I've always loved cooking and entertaining. I like making things that are beautiful — things that people go "Ooh and ahh" over. It's one of the reasons I chose the fondue. I said to my boyfriend, "What am I going to make? Everyone expects me to make something exciting!" I like the wow factor, but I don't like to make complicated meals. Simple things that are impressive. One of the reasons is that I travel so much for work, and I eat out a lot, and I always miss making my own, simple, unfussy food at home. I find it to be very therapeutic."
To read the full article, click here.
For the AGA Oatmeal/Porridge recipe, click here.
For more information on AGA products, click here.


AGA MARVEL is a North American subsidiary of AGA Rangemaster, a premier international consumer brands group that manufactures and distributes some of the best known and loved kitchen appliances and interiors furnishings in the world, including prominent cooking and refrigeration brands, each with its own unique history.
For more information visit www.agamarvel.com or www.facebook.com/agaranges