Event review: NKBA SoCal Chapter Meeting hosted by Mode Distributing
Event Date: August 16, 2016
Event Sponsors: Mode Distributing, Caliber Appliances, Vent-A-Hood, EuroChef, AGA Marvel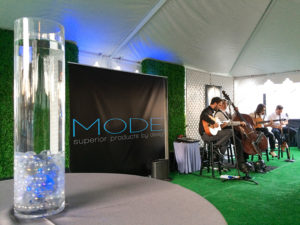 In August, Mode Distributing hosted the NKBA SoCal Chapter meeting. The evening was filled with live music, hand served hors d'oeuvres, mouth watering BBQ, and an enlightening discussion on kitchen ventilation.
Held in an outdoor venue, the event began with The Icy Hot Club, a band consisting of two acoustic guitarists, an upright bass player, and a clarinetist to set the mood with some 1930's jazz as guests enjoyed drinks at the bar.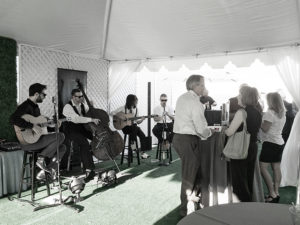 Next, tray passed hors d'oeuvres from California Fresh Catering were served. On the menu… tandoori chicken skewers, bacon wrapped blue cheese stuffed dates, croustade with blue cheese olive tapenade, mini crab cakes with a rémoulade dijon tart, golden puff pastry with prosciutto, gruyere and country mustard, sesame soy ahi on a crispy wonton chip, and a mini beef wellington that sent everyone's taste buds into a frenzy. Behind the scenes, Chef Erick was on site to make sure that every single hors d'oeuvre was on par for the guests. For more information on California Fresh Catering, click here.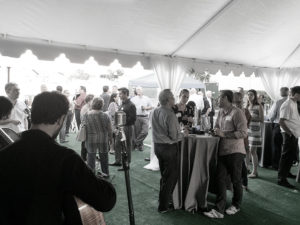 The band then proceeded to raise the entertainment bar by singing familiar hits like Summertime, Blue Skies, and Ain't No Sunshine. Based in Los Angeles, the band's repertoire consists of modernized Gypsy Jazz in the style of Django Reinhardt, both instrumental and with 3-part vocal harmonies. For more info on The Icy Hot Club, click here.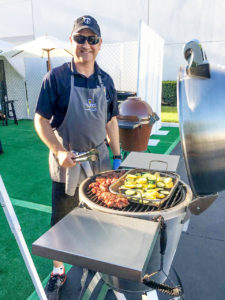 As the music, engaging conversation, and exquisite libations from the open bar continued, Executive Vice President of Caliber Appliances, Dan Nichols, treated guests to some mouth watering rib eye steaks and delicious grilled zucchini grilled on site with the Caliber Pro Kamado™ Grill/Smoker. To download Caliber's Rib Eye Steak recipe, click here. For more information on the Caliber Pro Kamado™ Grill/Smoker, click here.
Following the outdoor mixer, guests were invited into Mode Distributing's new showroom for the remainder of the evening. With over 35 premium kitchen appliances on display, guests were treated to a plethora of luxury products ranging from kitchen hoods, outdoor grills, refrigerators, and more.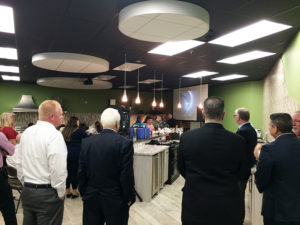 Inside, guests were treated to a CEU presentation on the fundamentals of kitchen ventilation by industry expert, Rudy Rodriguez. Rudy has been educating kitchen designers, cabinet makers, and appliance retailers on ventilation for over 13 years. With his unique experience with the mechanics of air-flow and filtration, he brought a highly desired understanding of the latest ventilation advancements for today's demanding cooking surfaces.
The presentation effectively illustrated how proper ventilation can combat against grease and other cooking contaminants that build up on walls, cabinets, and furniture. These contaminants can affect the air you breath and the food you eat. For more info on cooking ventilation, click here.
After the presentation, Mode Distributing treated guests to gift bags and a raffle with prizes graciously provided by Vent-A-Hood, Caliber Appliance, EuroChef, and AGA Marvel. For more information on these brands, click here.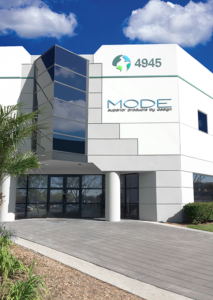 Mode Distributing is the premier home appliance distributor in the western United States. With factory trained territory managers, elegant showrooms for hands-on instruction, and an outstanding sales support team, Mode Distributing provides the highest level of service for your building, remodeling or replacement projects. With showrooms located in Southern California, Northern California, and Colorado, Mode Distributing continues to expand its superior service across the country and provide world-class service that matches the level of its luxury products.
For more information visit www.modedistributing.com
or www.facebook.com/modedistributing