Videos: About Marvel Premium Refrigeration, Marvel Wine Refrigerators, Marvel All Refrigerators and Freezers, Marvel Beverage Centers, Marvel Beer Dispensers
Published: May 16, 2017 on YouTube by Marvel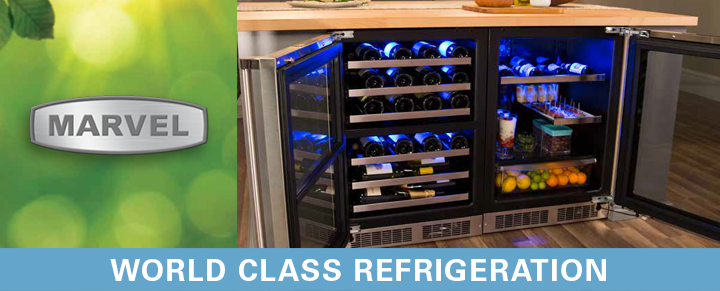 As the original refrigeration expert since 1892, Marvel Refrigeration is built on a foundation of 125 years of American-made craftsmanship you can trust.
About Marvel Premium Refrigeration
Choose from an extensive line of flexible solutions for home and outdoor, designed to enrich your life and adapt throughout the years. Enjoy distinctive features like Dynamic Cooling Technology for rapid cool down, convertible shelving, tri-color lighting and other clever design attributes to elevate the home experience.
Marvel Wine Refrigerators
Marvel protects your wine collection best and is twice as energy efficient as previous models. Engineered with critical elements of proper wine storage, Marvel Wine Refrigerators provide the optimal environment for wine preservation. And, it features Dynamic Cooling Technology with precise temperature control, vibration neutralization, UV light resistance, and more.
Marvel All Refrigerators and Freezers
Now up to 40% more efficient, Marvel Undercounter Refrigerators are engineered with the most precise temperature cooling performance and fastest cool down times. Plus, the fully adjustable cantilevered shelving system provides storage versatility that adapts to changes in lifestyle and refrigeration habits.
Marvel Beverage Centers
With maximum capacity and flexible cantilevered shelving, Marvel Beverage Centers can efficiently store your choice of 12-oz cans, 2-Liter bottles, 6-packs or 12-packs. And, each handcrafted model is engineered with Dynamic Cooling Technology for rapid cool down and precise temperature management.
Marvel Beer Dispensers
No other kegerator offers the versatility of Marvel Beer Dispensers. With as many as 4-in-1 storage configurations, it's the only beer dispenser that can store a half keg, multiple barrel sizes and also convert to refrigeration storage. The double-insulated tower ensures the perfect pour and an integrated drain controls spills. Discover why cicerones, home brewers and beer enthusiasts alike consider Marvel the finest beer dispenser.
For more details on Marvel products, click here.

AGA MARVEL is a North American subsidiary of AGA Rangemaster, a premier international consumer brands group that manufactures and distributes some of the best known and loved kitchen appliances and interiors furnishings in the world, including prominent cooking and refrigeration brands, each with its own unique history.
For more information visit www.agamarvel.com
or www.facebook.com/marvelamericas/