Blog Post: Pink Moscato Wine Cocktail with Spiced Rum and Cranberry By Leah Kalemba
Credit: The Wine Bar
Published by Marvel, December 1, 2016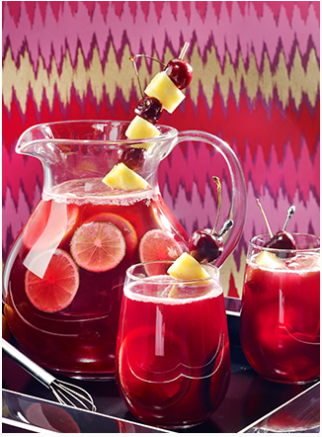 A festive spirit for the holidays, this Pink Moscato Wine Cocktail is beautiful in presentation and delights with a perfect harmony of flavors. Pink Moscato is balanced with the warm flavor of spiced rum, the tartness of cranberry juice, and the sweetness of pineapple juice and grape soda. Sour mix and orange bitters add delicious depth sure to please your palate.
Ingredients
1 bottle ROSE'N'BLUM™ PINK MOSCATO
4 oz Captain Morgan® Spiced Rum
16 oz Cranberry Juice
8 oz Pineapple Juice
12 oz Grape Soda
4 oz Sour Mix (equal parts simple syrup, lime juice and lemon juice)
3 dashes Orange Bitters
4 dashes Aromatic Cocktail Bitters
Instructions
To make the simple syrup, bring 1 cup of water to a boil and stir in 1 cup of sugar until dissolved.
Remove from heat and allow to cool.
Reserve 1-1/3 oz to make the sour mix with equal parts lime juice and lemon juice.
Store remainder in a container in your Marvel Refrigerator.
Mix all ingredients in pitcher over Marvel Clear Ice. Stir.
Garnish with lemon wheels, lime wheels or cherries.
Cheers!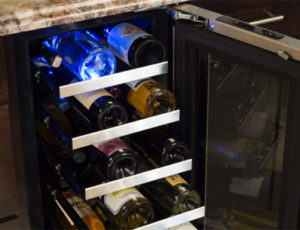 More About Moscato Wine
Moscato d'Asti is expanding in popularity among wine enthusiasts for its lighter, sweeter flavor profile and lower alcohol content (5 to 8% abv). Known for its blend of sweet peach, orange blossom and nectarine flavors, Pink Moscato is typically created from Muscat Blanc grapes, possibly one of the oldest cultivated varieties in the world.
It dazzles wine enthusiasts with its aromatic fragrance, light fruit-forward palate, and spritzy character as a frizzante. Wine expert Stacy Slinkard describes its appeal as such. "Moscato's inherent aromatics are simply stunning – orange blossom, honeysuckle, almonds, ginger and ultra expressive fruit dominated by green grapes, citrus tones and ripe peach nuances. From pear and apple, to orange and lime with consistent appearances in the ripe, juicy peach and apricot category, Moscato's flavors are extraordinarily fruit-filled. The delicate cascade of bubbles, light body and sweet surprise culminate to woo and win many unsuspecting palates to the wide world of wine."
For more information on Marvel products, click here.

AGA MARVEL is a North American subsidiary of AGA Rangemaster, a premier international consumer brands group that manufactures and distributes some of the best known and loved kitchen appliances and interiors furnishings in the world, including prominent cooking and refrigeration brands, each with its own unique history.
For more information visit www.agamarvel.com or www.facebook.com/marvelamericas/