Excerpt from: A Chill Is In The Air By Stacey Ballis
Published by Polymath Chronicles (Blog), April 12, 2016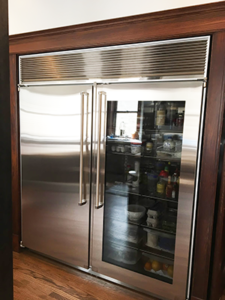 So I figured the best way to handle the kitchen reno reveals, is to just remind you of the previous posts and then update you on how the choices are working out so far!
So today, we can revisit refrigeration! Remember the fridge post?  Well all three of the Marvel fridges are installed and loaded and ready for a full report.  And the report?  Is awesome!
First, the big boy…
We decided to inset the fridge between the food pantry and the kitchen library, so that it would not stick out into the room, much as you might do if you were installing it within your cabinetry.  We trimmed out the space with woodwork that matches the original woodwork from the house, so that it would integrate well.  And we chose the glass door on the fridge so that it would break up the look, and not create a wall of stainless steel.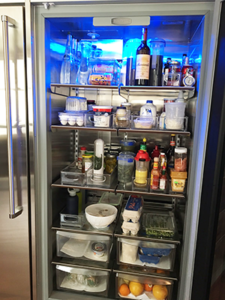 Here is the fridge side, opened.  And yes, that awesome blue light is standard, and I just love it!  Ditto the stainless steel interior, which is both easy to clean and looks terrific.  You'll notice that there are four deep drawers at the bottom, we have designated one of these for vegetables, one for deli meats and other easy lunch items, one for raw meats, and one for fruit.  The rest of the space is just open shelving, so I invested heavily in plastic trays and bins and organizers so that we could corral the rest of our stuff.
We bought this fridge because it is very deep, so it holds a great deal, and is amazing for large entertaining platters and such, but it does require some forethought on the organization side, especially when you have a small condiment hoarding problem as we do.  I have a tray for Asian ingredients, one for other condiments, one for salad dressings, one for pickles, one for jams and jellies.  We've got the whole top shelf for beverages, the second one down for dairy, and we keep the bottom shelf fairly open for leftovers or other prepped items.  I have to say, it has been a really amazing shift from our old small fridge to this one…everything has a place, and I don't have to completely pull everything out of a shelf to add or remove an item.  Glorious! For more details on Marvel products, click here.
To read the full article, click here.


AGA MARVEL is a North American subsidiary of AGA Rangemaster, a premier international consumer brands group that manufactures and distributes some of the best known and loved kitchen appliances and interiors furnishings in the world, including prominent cooking and refrigeration brands, each with its own unique history.
For more information visit www.agamarvel.com or www.facebook.com/marvelamericas/