Blog Post: Caliber Pro Kamado Grill/Smoker Overview
Published by Caliber Appliances, August 23, 2016
In his latest video, Chef Sam the Cooking Guy presents the ins and outs of the Caliber Pro Kamado™ Grill/Smoker.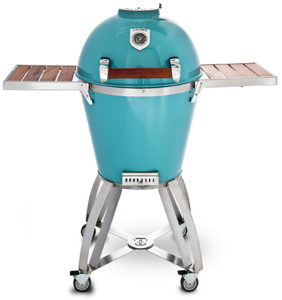 Caliber Pro Kamado™ Features
Takes grilling up a notch with it's patent-pending flue-way system which assures better moisture retention in your grilled goods. The efficient and unique dual layered insulated oven design of the Caliber Pro Kamado™ keeps heat and moisture in while using 40% less lump charcoal than ceramic grills.
Relax and smoke with confidence. Set the heat for Low and Slow at 225 degrees for 4, 5, or 6 hours and let our smoker do the work. Brisket fans can run the smoker on a single stock of fuel starting at 225 degrees and see the temperature at 205 degrees—12 hours later!
Provides natural convection with added radiant reflection produces better airflow and browning than competitive top vented grills.
The industry exclusive, patent-pending integrated rotisserie option turns chicken into the family favorite in just over an hour. Crusted to perfection and rockin' with juicy goodness, experience hands-free roasting while you prepare your side dishes for the poultry feast. Collect cooking juices for basting and sauce creation while keeping your grill clean and flare up free.
For more information on the Caliber Pro Kamado™ Grill/Smoker, click here.
For more information on Caliber products, click here.


Caliber Appliances was born out of a creative passion for culinary design and engineering. Elegant in form and functional prowess, every product is designed with a simple goal of exceeding the expectation of the most seasoned cooking aficionado. Every line, every feature, every detail down to the tooling on the burners is built with an intense devotion to providing the customer amazing results.
For more information visit www.caliberappliances.com or www.facebook.com/CaliberRangeCorporation