Excerpt from: ASA-D2: A Modular, Freestanding Outdoor Kitchen by Caroline Williamson
Published by Design Milk, January 25, 2017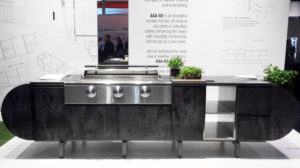 Unveiled at this year's Kitchen and Bath Industry Show (KBIS), the stylish and eye-catching ASA-D2 generated a lot of buzz. The modern, freestanding outdoor kitchen is the brainchild of architect and designer Daniel Germani, who incorporated Dekton by Cosentino, stainless steel cabinetry by Brown Jordan Outdoor Kitchens, and a stainless steel Rockwell Grill by Caliber Appliances.
With outdoor living on the rise, it's only natural that homeowners long for designs that rival those inside the home.
Rockwell by Caliber™ Social Grill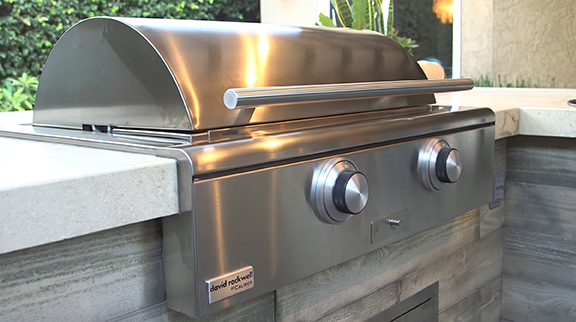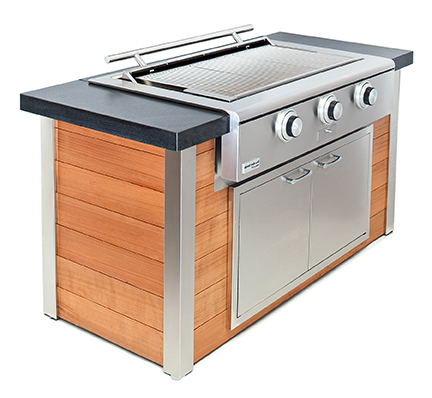 Hailed as the world's first estate-scaled, 360 degree "Social Grill," the Rockwell by Caliber offers a 20,000 BTU patent pending Crossflame™ Burner with radiant technology and features a fully retractable 'disappearing' lid. The exterior grill is built from heavy-gauge powder coated aviation grade aluminum and can be draped over a custom Brazilian cherry or stainless steel stand. This sleek and sophisticated design is also available as a built-in grill.
For more information on the Rockwell by Caliber, click here.
For more information on Caliber products, click here.
To read the full article, click here.


Caliber Appliances was born out of a creative passion for culinary design and engineering. Elegant in form and functional prowess, every product is designed with a simple goal of exceeding the expectation of the most seasoned cooking aficionado. Every line, every feature, every detail down to the tooling on the burners is built with an intense devotion to providing the customer amazing results.
For more information visit www.caliberappliances.com
or www.facebook.com/CaliberRangeCorporation