Blog Post: Buying Guide: Undercounter Refrigerator Appliances by Leah Kalemba
Published by Marvel, September 13, 2016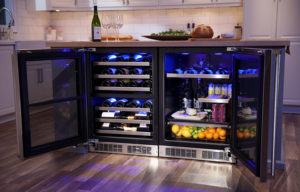 Undercounter refrigeration is not merely a box to keep things cold nor is it a commodity item decided on a simple matter of price. Today's options provide varying degrees of cooling performance, storage configurations, styles and finishes. And, undercounter options have expanded to beverage centers, wine cellars, freezers, ice machines and beer dispensers to offer even more diverse preservation capabilities for your home. Below are 5 tips to consider before purchasing.
TEMPERATURE STABILITY
BUYER TIP: Choose an undercounter refrigerator with forced air circulation, like Dynamic Cooling Technology from Marvel.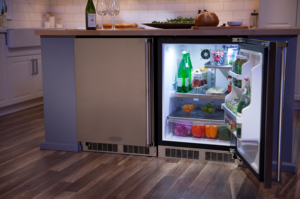 We all know the measure of a good refrigerator is how well it cools, but are you aware that several undercounter brands' cabinet temperature can fluctuate by as much as 10 to 15 degrees?
There is a distinct difference in cooling technologies across the industry.  Low-grade static cold plate cooling creates disparities in air distribution, creating an uneven temperature stratification effect.  In other words, the top compartment might be 15 degrees warmer than the bottom and other areas might cause items to frost.  Dynamic forced air actively recirculates cold air throughout the cabinet from top to bottom and is an upgrade worth investing in, especially if you plan to store wine and delicate foods.

COOLDOWN TIME
BUYER TIP: Select a model with a proven cooldown rate.  For example, Marvel's rapid cooldown is tested to be up to three times faster than other models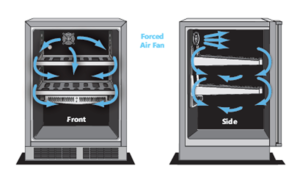 Surprisingly, few homeowners consider this aspect when shopping for an undercounter refrigerator and it's an attribute that can impact your lifestyle the most. Rapid cooldown is a necessary convenience for today's fast-paced lifestyles, and particularly important when stocking your undercounter refrigerator full of room-temperature cases of beverages for a party later than night. Nothing takes the refreshing zest out of a carbonated beverage like serving it lukewarm.

ENERGY-SAVING FEATURES, EFFICIENCY AND OPERATING COSTS
BUYER TIP: Be sure to read the product's Energy Guide for projected annual energy costs, and look for the ENERGY STAR® mark.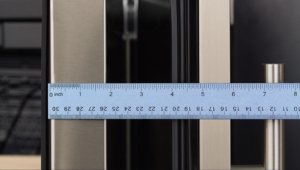 In 2014, The Department of Energy enforced more stringent energy regulations on the appliance industry. Michigan-based manufacturer AGA Marvel welcomed the changing regulations as an opportunity to retool its entire undercounter line, and now offers the largest collection of ENERGY STAR® rated undercounter appliances.  In fact, many of its models exceed the EPA ENERGY STAR® requirements – in some cases by 30%!
Look for additional energy-saving options, such as integrated controls with Eco mode, Vacation mode and Delay Start. And, there are features that prevent energy loss, too, like Close Door Assist to automatically bring the door to a gentle close and alarms to alert you of energy-compromising issues.
Another measure of thermal efficiency is the model's cabinet and door insulation, as it's the most effective protection from external heat transfer and cold air loss and affects overall efficiency.

CAPACITY AND STORAGE FLEXIBILITY
BUYER TIP: Insist on versatile storage solutions like cantilevered shelving and convertible shelving that can adapt to fit your lifestyle as it changes.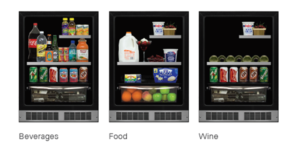 Review storage options and interior capacity of models at the footprint size you need.  Ask yourself, will this model suit my storage needs now and in the future? Can it fit extra-large platters and pizza boxes? Can it accommodate tall items? Does it offer optional wine storage?  Is there a clear rollout bin to store loose items or produce? Pick a model able to store the items you use most often.

FIT AND FINISH
BUYER TIP: Explore finish options with timeless appeal, and consider the fully integrated look of overlay panels.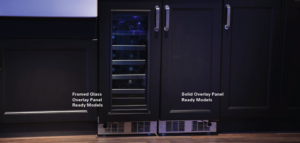 Manufacturers offer undercounter models in a variety of aesthetics, including solid and glass-framed doors in stainless steel, black, custom panel-ready and other finishes. If you prefer a truly built-in look, you'll want a panel-ready model with a soft-close integrated hinge to seamlessly blend with your cabinetry.
To read the full article, click here.
For more information on Marvel products, click here.

AGA MARVEL is a North American subsidiary of AGA Rangemaster, a premier international consumer brands group that manufactures and distributes some of the best known and loved kitchen appliances and interiors furnishings in the world, including prominent cooking and refrigeration brands, each with its own unique history.
For more information visit www.agamarvel.com or www.facebook.com/marvelamericas/