Excerpt From: Fall Color Report by Caitlin Kelch
Published by Design*Sponge, August 18, 2016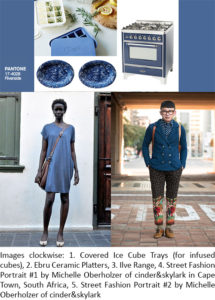 Leatrice Eiseman, Executive Director of the Pantone Color Institute™, explains "the desire for tranquility, strength, and optimism have inspired a Fall 2016 color palette that is led by the Blue family. Along with anchoring earth tones, exuberant pops of vibrant colors also appear throughout the collections. Transcending gender, these unexpectedly vivacious colors in our Fall 2016 palette act as playful but structured departures from your more typical fall shades."
Pantone 17-4028, also known as Riverside. The heavy presence of blues in fall's color story lends a sense of consistency during this voltile and turbulent time in our country. Think of the blue sky that is constantly above us, calming us, inspiring us.
To read the full article, click here.
For more details on ILVE products, click here.


EuroChef USA is the exclusive importer of ILVE and Verona brand cooking appliances in the United States. Since 2001, the EuroChef USA brands offer innovative Italian ranges, ovens, cooktops and ventilation systems that are internationally recognized and exquisitely designed to complement any kitchen. The EuroChef mission is to offer a unique collection of European professional appliances that are affordable, distinctive and of the highest quality. EuroChef USA prides itself on product excellence and the highest quality of customer service for customers around the country.
For more information visit www.eurochefusa.com or www.facebook.com/EuroChefUSA