Press Release: Vent-A-Hood® Launches Refreshed Website
Published by Vent-A-Hood, September 16, 2016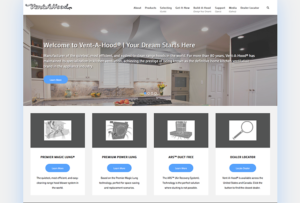 Vent-A-Hood®, the company that created the modern residential range hood, has re-launched its website with a fresh design, new layout and several back-end functionality improvements.
"We are continually looking at ways to improve and enhance the customer experience, and the website is at the top of our list," said Miles Woodall III, CEO of Vent-A-Hood®. "We want to ensure that our products and capabilities are communicated clearly on our website with beautiful photography, detailed information and in a format that is easy to navigate."
One of the newest features of the website is the recently upgraded Build-A-Hood program, which is now an interactive online 3D hood design experience. The only 3D range hood program of its kind allows customers, kitchen designers and the public at-large to get a better and more comprehensive online design experience that will help ensure they get the exact Vent-A-Hood® range hood of their dreams.
For customers on the go, the Vent-A-Hood® website is now mobile friendly too.
To visit the new Vent-A-Hood website, click here.
For more details on Vent-A-Hood® products, click here.


Vent-A-Hood® was founded in 1933 in Richardson, Texas, and is the oldest manufacturer of residential range hoods in the USA. Each product manufactured by Vent-A-Hood® is individually engineered for performance in addition to style. Vent-A-Hood® products are sold in all 50 states as well as Canada.
For more information visit www.ventahood.com or www.facebook.com/VentAHood