Excerpt From: New Designs For Building Homes Within Reach By Amy Albert, Editor-in-Chief
Published By Professional Builder, August Edition, 2016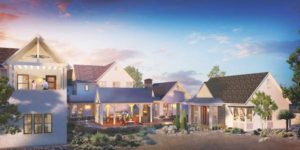 In the debate about how best to deliver new homes to buyers who are just starting out or just moving up, the question of attainability tends to get lost. It's an issue that expands beyond one generation to what may be one of the most pressing questions in our industry. In its most recent "The State of the Nation's Housing" report, released in June, The Joint Center for Housing Studies of Harvard University confirmed that while income growth and demand for new homes are on the rise, so are income inequality and rent burden. The report maintains that efforts to provide affordable housing aren't coming close to meeting the need, with far-reaching and dire long-term consequences. As a result, providing buildable, profitable, and affordable new homes is seen by many builders as beyond their grasp at best and at worst, too labor-intensive to make sense.
However, new prototypes are challenging that idea, merging time-honored configurations with up-to-date materials and contemporary design.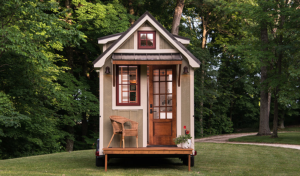 The tiny house movement, with its promise of a lightened financial burden and less material encumbrance, has captured the country's imagination. The 100-to-300-square-foot homes we see in shelter magazines and on design blogs are fun, but their diminutive size makes them unrealistic for many potential homebuyers. The question remains: How to create new homes that are both profitable for builders and within reach for those with modest incomes?
For a long time, the answer lay in the attached townhome, with its lower costs for buyers and better margins for builders. Another solution lies in density. After considerable market research, the development team at KTGY asked: Instead of building 1,600-to-2,100-square-foot homes at five or 10 to the acre, why not build sized-down, single-family detached homes at 10 or more to the acre, ranging from 1,000 to 1,600 square feet and which hold great potential appeal for first-time buyers—an underserved market, to say the least. The homes in turn help create a niche and could help keep builders from losing market share to the resale market.
Building at density isn't a new idea. One of the most popular examples, the bungalow court, is thought to have originated in Pasadena, Calif., just after the turn of the 20th century. Soon after, neighborhoods built during the 1920s and 1930s throughout the country followed suit, fitting well within the range of eight to 10 units per acre. Among the various configurations were green courts, auto courts, and alley-loaded garages.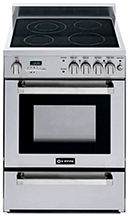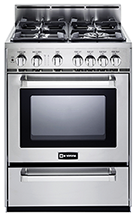 In compact homes, every inch counts. Increasingly, manufacturers are on the trend, bringing out appliances and fittings that are scaled down, great looking, and hard-working. Fridges, wall ovens, and ranges that measure 24 inches in width, an 18-inch dishwasher, a 4-by-4-foot soaking tub, a 23-by-18-inch freestanding sink vanity, and an elongated toilet use small scale to big advantage.
One manufacturer that is stepping up to the challenge is Verona.
With all the power of a full size professional range, Verona offers a 24 inch gas or electric range that packs a punch for a small space kitchen. The 24 inch gas range provides a versatile selection of both high and low power sealed burners and a turbo electric convection fan that will evenly bake foods up to 25 percent faster than a conventional oven. The 24 inch self cleaning electric range is equipped with four flexible power vitro ceramic elements and a convection oven that takes on the most demanding baking and broiling tasks.
To view full article, click here.
For additional details on Verona products, click here.


EuroChef USA is the exclusive importer of ILVE and Verona brand cooking appliances in the United States. Since 2001, the EuroChef USA brands offer innovative Italian ranges, ovens, cooktops and ventilation systems that are internationally recognized and exquisitely designed to complement any kitchen. The EuroChef mission is to offer a unique collection of European professional appliances that are affordable, distinctive and of the highest quality. EuroChef USA prides itself on product excellence and the highest quality of customer service for customers around the country.
For more information visit www.eurochefusa.com or www.facebook.com/EuroChefUSA