Blog Post: ILVE Transforms A 1950's Kitchen Into An Entertainment Destination
Published by EuroChef, November 29, 2016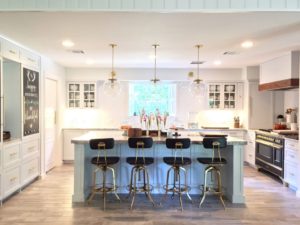 In Houston, Texas the heart of a 1950's ranch was transformed into a beautifully designed entertainment destination with the help of a 48" ILVE Majestic range.
Designer Vi Khanh Hoang, who specializes in custom renovations that are adhered to the client's lifestyle, renovated the kitchen within the footprint of the original home. She was able to incorporate the existing structure of the kitchen with an open and functional layout for entertaining friends and family.
"The dimensions of the kitchen stayed the same, but the layout had significant modifications," explained Vi Khanh Hoang. "We removed two walls and relocated range and refrigerator to different walls. We added a large island, a coffee/drink area, a prep/sink area, and a cooking area."

The kitchen was inspired by the classic and clean trend mixed with a warm cottage feel that is popular in interior design today. A 48" Matte Graphite ILVE range with brass trim helped to bring these styles together while still meeting the personal need for a powerful cooking appliance.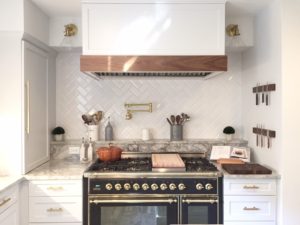 "We wanted a professional range that had an old world feel with today's convenience. This range had high BTU's, rotisserie function, warming drawer, glass on the oven door, beautiful brass hardware and could be customized. And it was just simply gorgeous!"
For more details on ILVE products, click here.


EuroChef USA is the exclusive importer of ILVE and Verona brand cooking appliances in the United States. Since 2001, the EuroChef USA brands offer innovative Italian ranges, ovens, cooktops and ventilation systems that are internationally recognized and exquisitely designed to complement any kitchen. The EuroChef mission is to offer a unique collection of European professional appliances that are affordable, distinctive and of the highest quality. EuroChef USA prides itself on product excellence and the highest quality of customer service for customers around the country.
For more information visit www.eurochefusa.com or www.facebook.com/EuroChefUSA