Press Release: Vent-A-Hood Patent: Another patent was awarded to Vent-A-Hood – this one for the ARS ductless hood
Published by Vent-A-Hood, December 2, 2016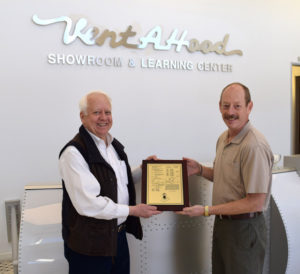 Vent-A-Hood has some of the oldest and longest-standing patents in range hood ventilation from the United States Patent and Trademark Office. Over the decades, the company has become something of an expert in the leadership position and design requirements it takes to earn a patent. Today, that includes its newest patent for the Air Recovery System (ARS) Duct Free Range Hood.  While ductless hoods have been on the market for some time, Vent-A-Hood vowed not to manufacture a ductless range hood until a design met its high standards for collecting cooking contaminants and cleaning the air to the best of abilities. The 4-phase cleaning system of the ARS duct free hood was the product that finally reached Vent-A-Hood's high engineering standards — and, likewise, the unique recognition of the U.S. Patent and Trademark Office. In a recent ceremony, the official patent was presented by CEO Miles Woodall III on a plaque to Bob Seloff, Vent-A-Hood engineer, for his instrumental role in developing the ARS line.
Utilizing a proprietary 4-phase technology, Vent-A-Hood®'s ARS series is ideal for light residential cooking where venting is not possible. They're powerful, quiet, efficient, easy to maintain, and, because they're duct-free, they offer unlimited design freedom.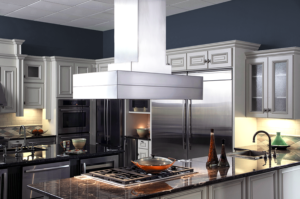 While conventional ductless hoods return contaminants into the kitchen, a duct-free ARS Vent-A-Hood® is in a different class of kitchen ventilation systems. The 4-phase ARS process systematically eliminates contaminants, reclaiming the air and returning it clean and fresh into the kitchen.
Phase 1: Active canopy technology effectively captures cooking vapors
Phase 2: Centrifugal grease extractor removes grease from air stream
Phase 3: Massive activated carbon bed has 50 times more exposure than conventional ductless hoods
Phase 4: High efficiency micro-filter uses interception, impaction and diffusion process to capture even minute smoke particles

And because the 4-phase kitchen ventilation process works so well, your home interior, including furnishings and fabrics, stay cleaner and last longer, allowing you to continue cooking and entertaining in your home for years to come.
Like all Vent-A-Hood® systems, the ARS kitchen ventilation is made in the USA and offers the quality, craftsmanship, and performance you've come to expect from the company that invented kitchen ventilation. We work hard to live up to our reputation as the most respected name in home ventilation. So, not only do we make sure you get better air, we guarantee you get great value.
For more details on Vent-A-Hood® products, click here.


Vent-A-Hood® was founded in 1933 in Richardson, Texas, and is the oldest manufacturer of residential range hoods in the USA. Each product manufactured by Vent-A-Hood® is individually engineered for performance in addition to style. Vent-A-Hood® products are sold in all 50 states as well as Canada.
For more information visit www.ventahood.com or www.facebook.com/VentAHood