Article: Bringing Color into the Modern Kitchen By Wendy Helfenbaum
Published By Metropolis Magazine, September 18, 2017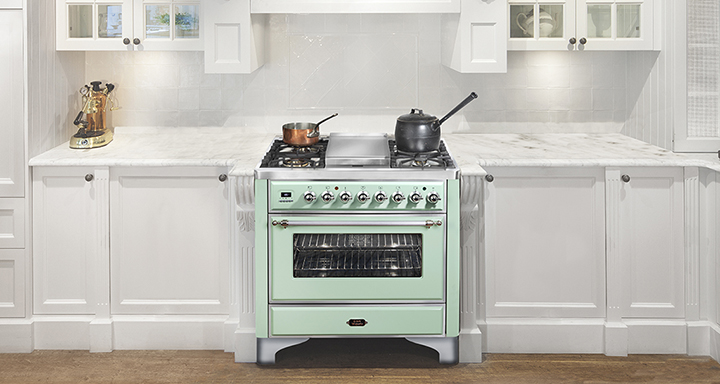 No longer a modernist faux pas, color and decoration are adding sophisticated style to today's kitchens. After decades of clinging to monochrome and stainless steel as the standard finishes in contemporary kitchens, it's time for a bold injection of color. And with the kitchen increasingly an opportunity for showcase and entertaining, the once humble and utilitarian range is stepping into the spotlight with an expanded palette of finishes and a chef's dream set of features.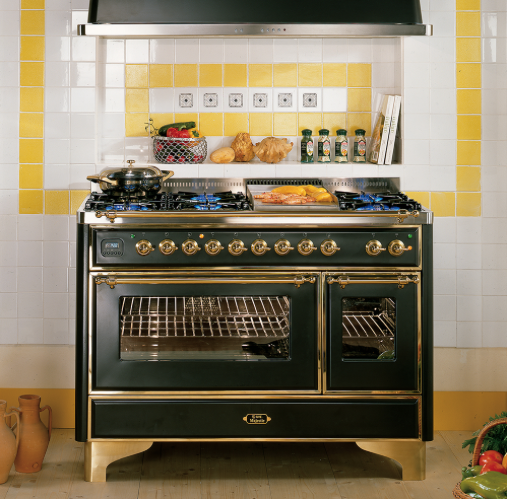 Since launching its premium residential and commercial ovens and cooktops in 1952, the Italian manufacturer ILVE has become synonymous with timeless beauty, exceptional functionality, and technical innovation. Handcrafted with precision near Venice, each range represents a culinary objet d'art, ideal for those who are as passionate about design as they are about cooking.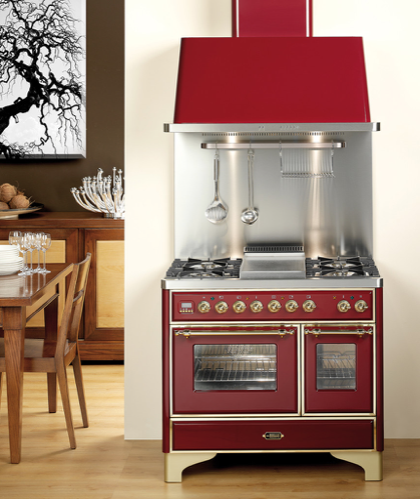 New options including color, finishes, and modern details allow ILVE's classic motifs to integrate seamlessly into today's "transitional" kitchen. Designers can now specify every element—from color to cooking method—to create the perfect focal point around which host and guests will be delighted to congregate. Available in either eight standard colors or in more than 200 custom RAL—including Cadium Yellow, Traffic Purple and Cobalt Blue—the Majestic, Nostalgie and Techno collections of ranges are sure to fit into any design scheme.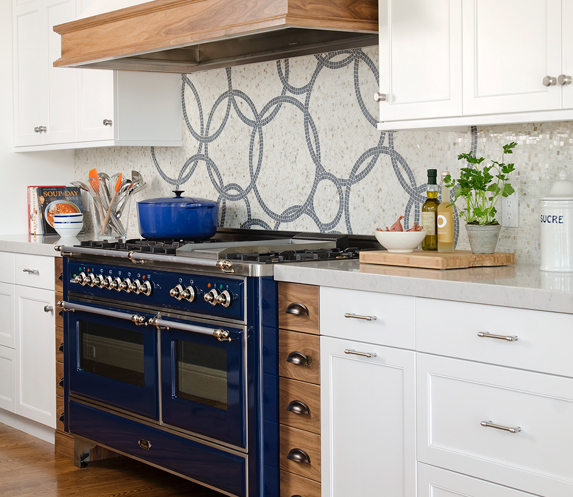 The Majestic line—available in both dual fuel and all-gas—comes in five sizes from 30"-60", equipped with single or double ovens. With trim options including brass, copper, oil-rubbed bronze, or chrome and four different leg styles, customization lets these kitchen centerpieces be unique and refined.
Incorporating the same technical features as the Majestic, the Techno Collection also offers modern extras like a tubular style handle, sleek stainless steel knobs, tubular legs, trim-less doors and panels, and an optional upper handrail.
When working with smaller spaces, ILVE's compact Nostalgie ranges are 24" deep, and available in widths starting at 24". Featuring a powerful all-gas configuration, the ranges include an upper handrail, digital clock and timer, pre-heat indicator, hearth-shaped window, tubular legs and a storage/warming drawer.
For each product line, a wealth of accessories – including cast iron steak pans, chopping boards, griddle covers, pizza stones and basins for steam cooking – further enable each range to meet any personal taste and cooking style.
ILVE's latest custom options allow for personalization, making each kitchen unique, whether the design calls for a muted range to blend in with a monochromatic scheme or a spotlight-worthy shade to create a vibrant focal point.
In staying true to its heritage while embracing new design options and technological innovations, ILVE has contemporary solutions for every dream kitchen.
For more details on ILVE products, click here.


EuroChef USA is the exclusive importer of ILVE and Verona brand cooking appliances in the United States. Since 2001, the EuroChef USA brands offer innovative Italian ranges, ovens, cooktops and ventilation systems that are internationally recognized and exquisitely designed to complement any kitchen. The EuroChef mission is to offer a unique collection of European professional appliances that are affordable, distinctive and of the highest quality. EuroChef USA prides itself on product excellence and the highest quality of customer service for customers around the country.
For more information visit www.eurochefusa.com
or www.facebook.com/EuroChefUSA