Blog Post (Excerpt): The Stove
Blog: The White Farm House
Published: April 20, 2017 by Morgan Ford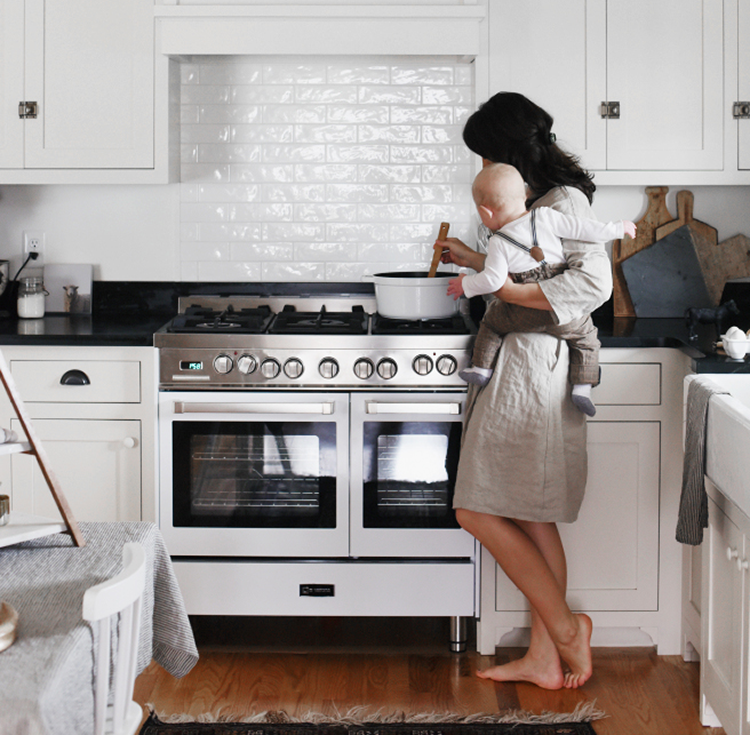 So I thought I would talk a little bit about the stove we chose in the recent kitchen remodel since so many of you have asked about it! And, lets face it, its my favorite part of the kitchen!
Why I chose Verona is the first thing to consider. For starters, it is the most used and important feature in the kitchen in my eyes! Previously we had a cheap electric stove with the matching microwave on top, and I will NEVER do that again. Our microwave died within the first few years, and the built-in vent hood was SO loud, we couldn't talk to each other in the kitchen when it was running. Talk about annoying! And cooking on an electric stove top is just a nightmare. I never knew how much I could enjoy cooking as much as I do now with our gas range. Oh, and back to why we chose Verona, another important factor for me was the fact that parts are readily available. I was worried that with this being an Italian stove would cause problems down the line if something went wrong, but Verona reassured me parts would be easy to get if ever needed. EuroChef USA is the exclusive importer for America and service can be dispatched to anywhere in the county.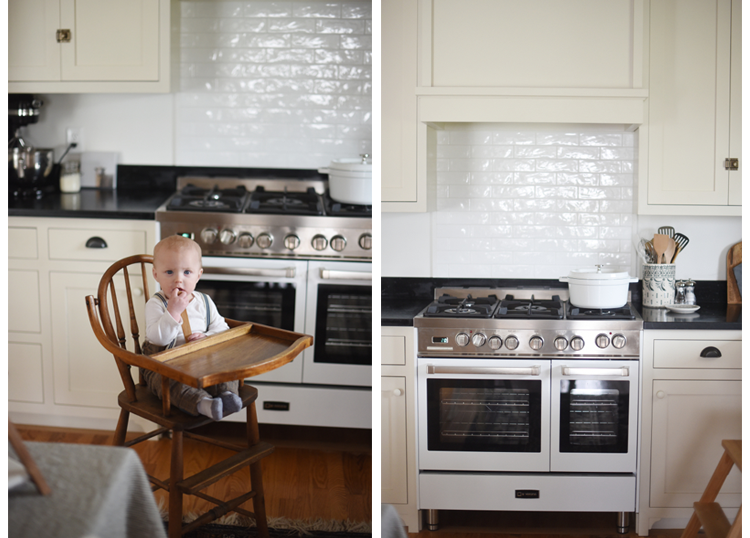 DUAL FUEL
It took me MONTHS to decide IF we would be buying their stove, and even longer to decided WHICH stove to get. We chose dual fuel and I found it to be most economical and functional.
DOUBLE OVEN
I (umm I mean we ;P) chose the double oven because I love the versitility of cooking desert and dinner at the same time. And that I have the option of heating up a such smaller space when I want to bake something quick and small like banana bread for the kids!  I worried the "larger" side would still be too small for those large dinner, but boy was I wrong. The larger side can fit a 25 lb turkey, and still can fit my 9x13in pans! Talk about a win win!
WHITE WHITE WHITE
Okay, lastly- why in the world did I choose a white stove? I asked my friends, my mom, everyone which color to chose and they allllll said stainless. Come on now?! No one was adventurous like me I suppose?! Yes stainless would have been the "safe" route, but I like to be different! And truthfully, I have stainless appliances and hate them. I had looked over and over at other kitchens I liked and inspirational photos galore, and the biggest thing I was drawn to was the stove. It is the focus of attention and such a used and important decision! So here she is, the white stove of my dreams!
To see full article, click here.
For more details on Verona products, click here.


EuroChef USA is the exclusive importer of ILVE and Verona brand cooking appliances in the United States. Since 2001, the EuroChef USA brands offer innovative Italian ranges, ovens, cooktops and ventilation systems that are internationally recognized and exquisitely designed to complement any kitchen. The EuroChef mission is to offer a unique collection of European professional appliances that are affordable, distinctive and of the highest quality. EuroChef USA prides itself on product excellence and the highest quality of customer service for customers around the country.
For more information visit www.eurochefusa.com
or www.facebook.com/EuroChefUSA