Excerpt from: Our New Verona Range and Review By Anissa Zajac
Published by House Seven Design (Blog), February 15, 2017
We turned what was the original dining room and part of the kitchen in to a much more open kitchen area and we are so happy we did. It took a lot of planning and researching the products that we have used in our kitchen space.
One thing that we were sure of was that we wanted a professional oven range and it had to be 36 inches. We also didn't have the square footage to add in built in double ovens so we would have to figure out a way to incorporate that in to the design. The problem that most of you know, is that professional ranges are so expensive and then you throw in a double oven, GULP!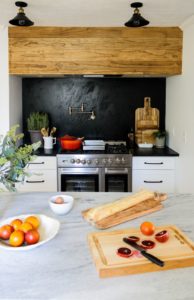 Not to mention, the reviews on most of the more popular mainstream brands leave a lot to be desired. So what to do? I mean in all honesty, we didn't have $8000-$10,000 in our budget for a range and I was weary of spending less on an off brand that seemed to be made in china by the same companies but with a different name on them. We were stuck.
That is until I found the Verona. They are made in Italy and I honestly couldn't find much information about them at first. After lots of time searching the internet for information, I decided to just search Instagram instead. Thankfully, I found quite a few reviews on the range and I was able to see real life photos!! One of the reviews I read was from The Faux Martha. I have followed her for quite some time on Instagram and after her raving review of her own Verona duel fuel range, which means gas stove top and electric oven, I thought this might actually be the one for us and for far less than the other brands I had been researching.
I finally made up my mind and purchased the Verona 36″ double oven with dual fuel and 5 burners. Then I crossed my fingers and hoped and prayed I had made the right choice.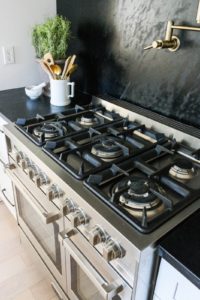 We have had the range for a little over 3 months now and we are so happy with it. I'm actually quite blown away with what an incredible range it really is. The front burners are both 12,000 BTU and the back are 6000. The center is between 1000 to 16,000. If you want power then this is it but with the back burners being just right for lower temps and simmering. The other thing that I noticed with a lot of the other pro ranges was they didn't have timers on them. Okay, so I'm not a professional cook and I wanted a clock and a timer. The oven has multiple settings including a defrost setting and for those that wonder just how much you can fit in the larger oven? Well, we fit our 20lb. turkey in there for Thanksgiving without any issues at all.
We are so happy that we decided on the Verona! It has been a such a wonderful addition to the kitchen. It's not only beautiful but works perfectly. We have had zero issues with the range and I don't anticipate any to come in the future.


Anissa Zajac is an interior stylist and blogger.
To view full article, click here.
For additional details on Verona products, click here.


EuroChef USA is the exclusive importer of ILVE and Verona brand cooking appliances in the United States. Since 2001, the EuroChef USA brands offer innovative Italian ranges, ovens, cooktops and ventilation systems that are internationally recognized and exquisitely designed to complement any kitchen. The EuroChef mission is to offer a unique collection of European professional appliances that are affordable, distinctive and of the highest quality. EuroChef USA prides itself on product excellence and the highest quality of customer service for customers around the country.
For more information visit www.eurochefusa.com
or www.facebook.com/EuroChefUSA