Press Release from: LVE Ral Custom Color Program Named NYCxDESIGN Awards Honoree
Published by EuroChef, June 7, 2016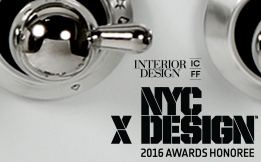 ILVE, known for their handcrafted Italian appliances, has been named an honoree  in the inaugural NYCxDESIGN Awards in the Kitchen category for the RAL Custom Color Program. There were over 500 entries in 30 distinct categories that were judged by a panel of design luminaries from all areas of the design industry.
"We're so honored to have been named a NYCxDESIGN Award honoree for the ILVE RAL Custom Color Program," says Melissa Haber, Director of Sales & Marketing for EuroChef USA. "The RAL Custom Color program has seen great popularity in New York and the rest of the design industry. The program showcases our dedication to custom Italian appliances made specifically for the individual consumer. We're honored to be recognized by a panel of such esteemed design professionals."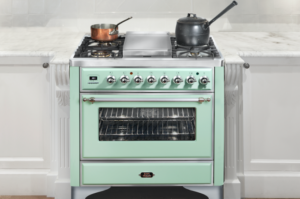 ILVE's RAL Custom Color Program is available for both the Majestic and Nostalgie line. The program allows for consumers to choose from 213 classic RAL colors for both their hood and range, allowing for more personalized options than ever before. ILVE ranges are available in six standard American sizes, 60", 48", 40", 36", 30", and a perfect city-sized 24" option in the Nostalgie line. Both single and double oven options are available, as well as dual fuel and all gas connection choices.
The 1st annual NYCxDESIGN Awards, hosted by Interior Design Magazine and ICFF, is a global competition to celebrate outstanding products and projects across major areas of design. The awards program takes place during NYCxDesign, New York City's 15-day showcase of global design. The program is open to exhibitors, establishments and firms with New York City-based projects. On May 14, 2016 nearly 400 people from the design community filled the seats of the Museum of Modern Arts to celebrate the inaugural NYCXDesign Awards hosted by Interior Design Magazine's Editor in Chief Cindy Allen.
For more details on ILVE products, click here.


EuroChef USA is the exclusive importer of ILVE and Verona brand cooking appliances in the United States. Since 2001, the EuroChef USA brands offer innovative Italian ranges, ovens, cooktops and ventilation systems that are internationally recognized and exquisitely designed to complement any kitchen. The EuroChef mission is to offer a unique collection of European professional appliances that are affordable, distinctive and of the highest quality. EuroChef USA prides itself on product excellence and the highest quality of customer service for customers around the country.
For more information visit www.eurochefusa.com or www.facebook.com/EuroChefUSA