Excerpt from: Cooking Up A Healthy Home In 2016 By Miles Woodall III, CEO of Vent-A-Hood
Published by The Retail Observer, June, 2016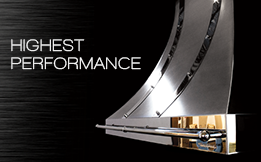 Home health has been a rising concern among consumers for many years. But long before it was a prevailing topic, manufacturers were gaining knowledge of the health hazards created by indoor cooking and began looking for ways to educate consumers.
During the 1950s, in an effort to capture consumer attention, Vent-A-Hood created "Greasy Gus," a cartoon villain that helped explain the impact indoor cooking could have without a proper ventilation system. The battle between range hoods and Greasy Gus played out in newspaper and magazine ads, educating homeowners about the dangers of Greasy Gus and the thick coat of grease and cooking contaminants he would leave behind on walls and cabinets without a proper range hood. It was groundbreaking for its time.
Fast-forward to today, and science is now on our side. Indoor air quality merits an entire industry of experts, escalating the healthy home discussion. Today's consumers are also supercharged about their health, using their purchasing power to create a better lifestyle and environment at home. This trend is especially prevalent in the kitchen.
As consumers become more aware of the impact different appliances have on the home environment, the pressure is increasing on manufacturers to create products that not only look good and function well, but also deliver the added benefits of energy conservation while limiting indoor pollutants or toxins. In January 2016, Proud Green Home stated that the demand for new indoor environmental and air quality technologies that improve conditions is expected to exceed $7 billion by 2024. From smart stovetops and superior engineering in range hoods, the kitchen appliance industry continues a path towards products that create a healthier, more efficient home.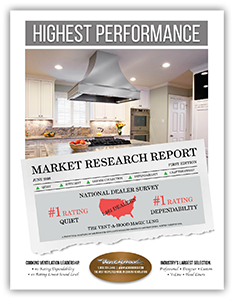 Here are just a few of the topics manufacturers should expect to address for the healthy home consumer of 2016.
LIMIT THE SPREAD OF GERMS AND TOXINS
The incredible ease with which germs spread has, unfortunately, always been an issue in the kitchen. The transfer of food and cooking contaminants has impacted manufacturers to address ways their appliances can contain germs in the kitchen to promote a healthy home.
This shift is already evident in products on the market actively promoting cleaning and safety benefits. With more efficient and eco-friendly self-cleaning appliances, many manufacturers are making it easier for consumers to eliminate germs and cross contamination creating a healthier cooking environment. And "dishwasher safe" is not only a marketing mantra for dishes and utensils. It's also a motto for appliance parts to function at their cleanest, optimal level.
TAKE CONTROL OF THE AIR
Increasingly effective kitchen range hoods and cooking ventilation systems have become a priority in the mind of consumers and government organizations. According to a study from Berkley Labs, health consequences of poor indoor air quality from cooking and other activities are as significant as those from all traffic accidents or infectious diseases in the United States.
In 2016, the manufacturing industry will see consumers continue to choose ventilation options that offer both style and high efficiency in eliminating airborne home threats. Like Vent-A-Hood's signature, patented MagicLung® blower, the educated buyer is not only looking for a quiet option that doesn't pollute with noise, but an option that also keeps grease and contaminants from escaping into the home.
Expect industry products to offer more advanced systems that help create a safe living area by collecting grease in a responsible way to prevent fire hazards, while offering consumer the ability to add style and statement to their kitchens.
HIGH TECH HOME HEALTH AND SAFETY
A study conducted in 2014 by Ask Your Target Market found that 9 percent of respondents already own multiple smart appliances, apps, or other smart devices for the home that allow them to automate appliance functions remotely.
As technology continues to evolve, homeowners will begin to incorporate more features into their home projects and appliances to allow added control over their cooking, cleaning, and daily lives.
Likewise, manufacturers will see a rise in new safety features, power-saving technology and "smart house" functions to create a connected home. Technology like Vent-A-Hood's Sensasource, a feature that adjusts range hood ventilation power to the amount of heat coming from the cooktop, will become mainstream. Smart appliances will allow consumers to conserve energy and create a safe, tech savvy cooking environment.
For more details on Vent-A-Hood products, click here.


Vent-A-Hood was founded in 1933 in Richardson, Texas, and is the oldest manufacturer of residential range hoods in the USA. Each product manufactured by Vent-A-Hood is individually engineered for performance in addition to style. Vent-A-Hood products are sold in all 50 states as well as Canada.
For more information visit www.ventahood.com or www.facebook.com/VentAHood